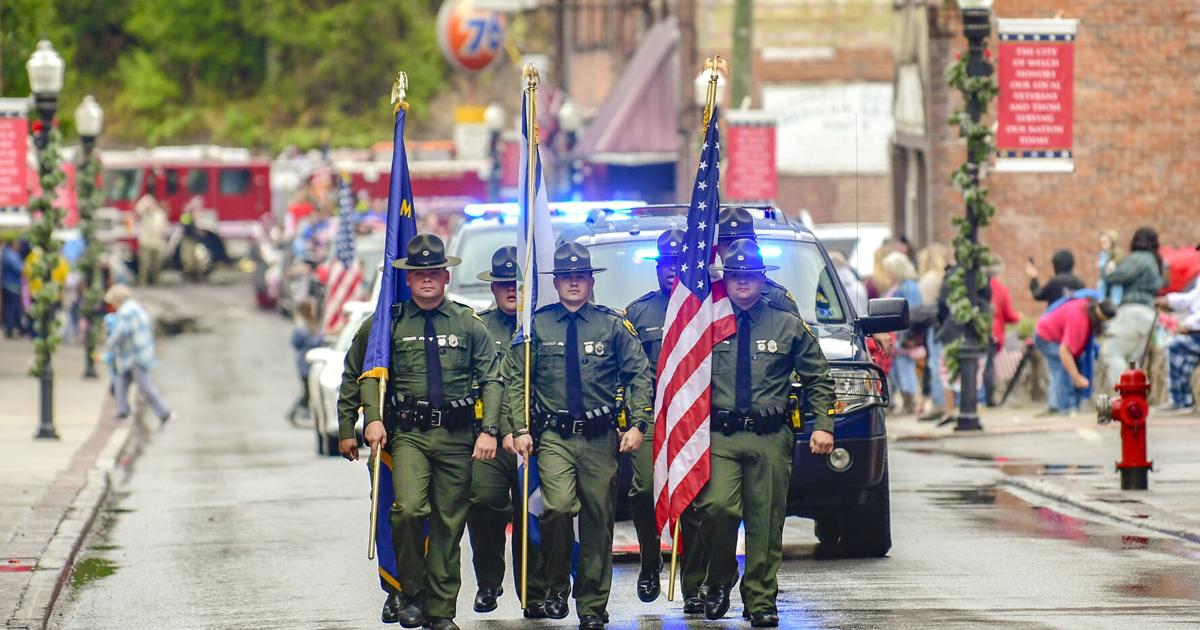 WELCH — The 104th Welch Veterans Day Parade marched as scheduled Friday morning, despite the threat of heavy rain resulting in a lower than usual turnout.
The longest running Veterans Day Parade in the nation, the parade drew large congregants and honored veterans in a way that is special to McDowell County and residents.
The guest speaker for the post-parade ceremonies was Steve Mooney, director of operations for the State Department of Veterans Assistance.
Mooney is a Huntington native and is also a veteran, enlisting in 1991 in the West Virginia National Guard and serving in Afghanistan and Iraq.
Mooney said military service has helped keep the country and citizens "safe and free," and it has also honored military families who make sacrifices.
"At the 11th hour of the 11th day of the 11th month, the guns of the world fell silent," he said of the end of World War I. This day was originally called Armistice Day until it was renamed Veterans Day in 1954 after World War II. and the Korean War.
"Unfortunately World War I would not be the 'war to end all wars,'" he said of an oft-used phrase about the war, which ended in 1918. .
Mooney said Veterans Day is set aside to honor those who put their lives on the line "for our freedom."
"These men and women were ordinary people until they heard the call of duty and responded," he said. "They left their families, their homes and their lives, not for the recognition or the glory, not for the honor we give them today. They fought for our country and to maintain our way of life.
Mooney also recalled a personal experience of losing a friend from that region on May 18, 2002 when enemy bullets rained down on a US convoy in Afghanistan.
"A soldier from this region died of a gunshot wound while serving in combat operations in Afghanistan. His name was Staff Sergeant. Gene Arden Vance Jr.," Mooney said. "I was very honored to know Gene and to have worked with him for several years before 9/11 (2001). Gene paid the ultimate sacrifice a soldier can ever make.
Vance was a graduate of Oceana High School in Wyoming County and was killed in action during Operation Enduring Freedom when his unit came under heavy fire while on patrol in eastern Afghanistan.
A member of the US Special Forces Airborne Army West Virginia National Guard Unit sent to hunt down Osama bin Laden, Vance, despite being seriously injured, saved the lives of two fellow Americans and 18 Afghan soldiers.
"He will always be remembered as a kind person with a smile on his face and a positive attitude," Mooney said.
Mooney also said everyone should remember that returning veterans often experience stress and challenges in rehabilitating.
"Let's not forget the internal injuries that veterans suffer on a daily basis," he said, with 22 veterans taking their own lives every day. "Military service is not for the faint of heart."
Most civilian jobs do not involve risk to "life and limb", he said, adding that in civilian jobs people can quit when they want and live wherever they want, but that is not the case in the army.
"The challenges of transition, the stresses of military life and feelings of isolation all contribute to a suicide rate among veterans that is 50% higher than that of a non-military adult," he said. he declares. "The stigma of seeking help needs to end."
Mooney said it takes courage to seek help and "we need to be proactive and encourage veterans to seek help," adding that homelessness is another issue among veterans.
"The best way to prevent veteran homelessness is to hire them," he said.
Mooney said that when politicians want to cut the costs of military programs, "it's up to us to remind them of the cost of being a veteran."
"Veterans Day is not just a day for veterans," he said. "It's a day for Americans. It's a day to remember why they fought and a day for us to begin our journey of protecting our freedom and the freedom of future generations.
Welch Mayor Harold McBride also spoke at the event.
"I can't think of any place in the world I'd rather be on Veterans Day than Welch, West Virginia," he said. "It's unique, it's special and no one can take that away. We're very lucky to be here and we'll always remember that.
Tom Hicks, state commander of the American Legion, attended the event.
"It was an honor and a privilege to be invited here today to participate in the 104th Veterans Day Parade in Welch," he said.
Jan Williams, commander of American Legion Post 8, which is sponsoring the event, led the parade.
"It's my freshman year," she said of her new position at Station 8.
Not only that, she is also the first female commander of Post 8.
Williams said she raised her children in the county, was retired from McDowell County schools and, along with her husband, David, is an Air Force veteran.
She said they joined the American Legion on the 100th anniversary of that veterans organization (2019).
"We usually have to work the parade," she said. "But it was great (to be in). It was an honor.
David Williams said he was born and raised in McDowell County and always comes to the parade.
"The only ones I missed was when I was on the service," he said.
"We are very proud of the county and the city in which we live," said Jan Williams. "We are proud to be veterans and to have served our country."
Residents who attended the parade said they weren't concerned about the weather, which ultimately brought only a few showers.
Brittany Bolden, a Panther native who now lives in Bluefield, said she's attended at least 20 Welch shows, and loves her story and how it solidifies the community.
"It brings the community together," she said, and it's something everyone looks forward to, bringing people together from across the county.
Bolden's daughter-in-law, Adalyn, 7, a student at Mountain Valley Elementary School, said she had attended the parade before.
"I've been there many times," she said, and she always looks forward to it.
Her favorite part of the show? "Candy."
Paisley, her 5-year-old sister, said she had been there before but was too young to remember, so it really is her first time.
But she wasted no time in saying what she was most looking forward to: "candy."
Morgan Griffin said she recently moved to Welch from North Carolina and this was her first time attending the parade.
"I know this parade has been going on for a long time, but I was surprised they had it with the rain," she said.
When told it was the 104th parade, Griffin's reaction was, "That's awesome."
Griffin said her daughter, who is in third grade at Kimball Elementary, was in the parade and she loves seeing all the kids participating.
"She will be walking with her cheerleading squad," she said.
Shane Collins, who recently returned to the area, said his entire family is from McDowell County and "it's been a long time" since he attended the parade, but goes there often when he was growing.
Collins said his favorite thing was just "to see the community come together."
Andrea Green, who is from McDowell County and her family owns an insurance business and a new laundry mat in Welch, said she has been coming to the parade for a long time.
"My dad is a veteran, so we made it a tradition to come to the parade," she said.
Green said her favorite part of the parade was "seeing people I know."
Her father, Charles David Brown, an Army veteran who served in Vietnam, said he was born in Iaeger and had attended the parade for many years.
"I like coming to see old friends," he said.
Brown said he also appreciated the message.
"I am grateful that efforts are being made to honor those who have served," he said, adding that it took 20 years after Vietnam before anyone thanked veterans for their service. "They say it now, but they didn't then."
Another family member, Joseph Green, 13, said he has been coming to the parade "since I was a baby".
Green said he also enjoys seeing the people and the Concord University band, which performed the national anthem and other patriotic songs.
He's a musician who plays the euphonium and says if he goes to Concord, he wants to be in the college band.
Concord University was named the parade's best band; Mount View High School football team won Best Youth Group; Best vintage car went to Jimmy Osborne for a 1995 Chevy C-1500; the Welch Lions Club won the Commander's Best Civic Group Award; and the Commander's Trophy for Best in Parade went to Jimmy's Hardware.
— Contact Charles Boothe at [email protected]