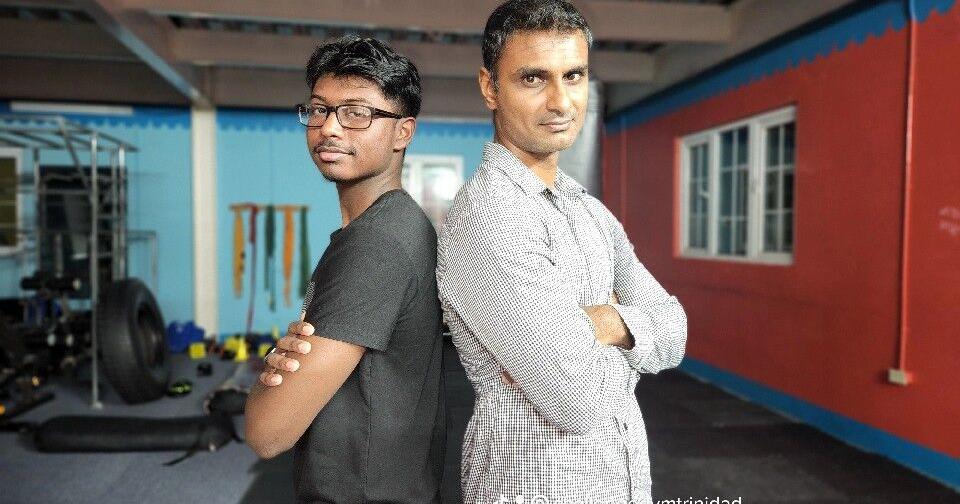 Professional kickboxer Devon Darryl Ramkallawan has produced a film to raise awareness of the sport. Ramkallawan, who has been involved in kickboxing for over a decade, merged his passion for filmmaking and kickboxing to produce a film titled Luke, The Thai Boxer to challenge and explore attitudes towards the sport.
Luke, The Thai Boxer is a 25 minute film starring Luke Soogrim. It tells the story of the importance of martial arts and debunks the narrative that martial arts is a violent sport. The film premiered on September 10 and was also streamed on YouTube and https://www.challengegym.org/film.
At the age of 16, fresh out of school, Ramkallawan began his career as a fitness instructor. At 18, he began to study Muay Thai and kickboxing. At 21, Ramkallawan opened the Challenge Gym, with the slogan "Are you up for the challenge?" The kickboxer recently spoke to Kitcharee about his passion for filmmaking and kickboxing and the driving force behind his latest film. "By fusing my passions for writing, fighting and acting, I believe this is the best tool for me to raise awareness."
All of Ramkallawan's 20s have dedicated themselves to competing in the sports of kickboxing and Muay Thai, representing Trinidad and Tobago for ten years.
In 2015, at age 30, he left the ring and focused on teaching and promoting the sport. He also promoted five shows featuring kickboxing and Muay Thai fights. In 2020 he decided to return to the ring, but the Covid-19 pandemic made it impossible. In 2022, Ramkallawan decides to focus on his film.
The 37-year-old, who is also an author, added: "This is a story that will raise awareness of a key importance in martial arts. It will destroy a myth that many still believe. It will explain and demonstrate how the Muay Thai skills can not only protect you, but also promote non-violence," Ramkallawan said.
Ramkallawan said the film is driven by real events. "Many think martial arts are violent, but this film shows why it's not. The character arc will inspire many to embrace such discipline. And best of all, even if the story is a fiction, the lessons and development are real. This is a story that many can relate to. I know this because I took real life experiences and placed them in the film. Therefore, this film is motivated by real events.
He added: "It will also demonstrate the power of love and clean thinking. It will encourage people to give love instead of hate. It will show how martial arts should be taught, how a true trainer should be, and how a student should develop. I'm sure viewers will shake their heads as they discover the truth displayed on screen," he said.
Target young people
Ramkallawan said the film was aimed at young people. "It's not my first film, but it's my longest to date, screened for 25 minutes. It targets the young people of our country and all those who seek to better themselves. Anyone who has felt a loss and is looking for a positive place to live. It will benefit those who struggle with anger and easily succumb to hatred. It will show them the power to give love and be non-violent.
He added: "This film is dear to me because of the message. There are two messages to be taken from this – that is, violence and non-violence, and the second is the value of having of love and positivity rather than hate and negativity in the mind and heart. These messages will teach the positive effect of love on the body, mind and people around you" , said Ramkallawan.
The film, Ramkallawan said, can shape viewers' minds. "I know it's a fact because it shapes my life. I've seen a lot of positive benefits from the morals I live by. I want to share them and I think there's no better medium," he said.
Ramkallawan expressed satisfaction with the support given to the film. He has plans for future film projects but will largely focus on promoting the sport. "I'm also working on a script for my book, Wingless Angel, The Forbidden Deed, which I plan to pitch to a Hollywood producer when kickboxing and Muay Thai competition resumes. As for my return to the ring, it seems unlikely, but you never know because I am up for the challenge," he said.
Luke, the Thai boxer – a summary
When Luke's gang initiation goes awry, he steals $20 and a torn card with the words "Thai Boxing" written on it. He is considered a failure, he is beaten and left for dead. After surviving, his aunt searches for the words and finds the Challenge Gym where Luke is enrolled. His training takes him from weak to strong, until his former gang discovers his survival and progress. During an exhibition with another gymnasium, the gang leader attacks him. His trainer comes to his aid, and they run away.
Luke has grown so strong that he forgives the gang. He wants the best for them but worries about what he should do if they attack him again. His trainer advised him to remain non-violent and only use defensive techniques designed to reflect the attacker's aggression and hatred back onto himself. When the inevitable happens, Luke digs deep within himself to find the courage to obey his trainer.
About Devon Darryl Ramkallawan
Devon Darryl Ramkallawan is a Certified Personal Trainer in Kickboxing (Second Degree Black Belt), Muay Thai (Tenth Khan) and Personal Fitness Instructor. He is an author and is also involved in acting, screenwriting and video editing. As an author, he writes under the pen name Devon DR.