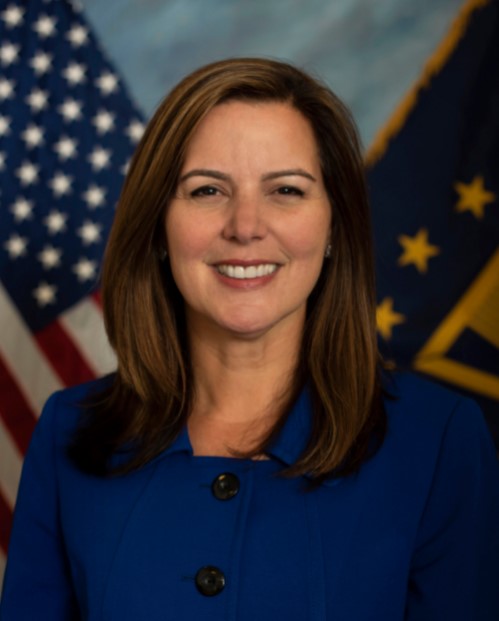 In this new monthly column, Daily Defense spotlights people from across government, industry and academia whose efforts contribute daily to national defense, from program managers to human resources managers, engineers and logistics officers .
Melissa Cohen is Director of the Department of Sexual Assault, Sexual Harassment and the Navy Suicide Prevention Office. In this role, she is the Senior Advisor on Sexual Assault, Sexual Harassment, and Suicide Prevention and Response issues, within the Office of the Assistant Secretary of the Navy (Workforce and Humanitarian Affairs). Reserve). Cohen joined the Senior Executive Service in January 2019. Prior to her current role, Cohen was Director of the Office of Personnel Studies and Oversight for the United States Marine Corps, where she served as an advisor to the Deputy Commander of the Corps. Marines, recommending policy changes to strengthen efforts to attract, assign and retain talented Marines and civilians.
How did you get involved in the defense industry or community?
Very early in my professional career, I worked in the non-profit sector, providing crisis assistance and support to victims of domestic violence and sexual assault. Specifically, as the Coordinator of the Sexual Assault Forensic Examination Center (SAFE) in Wake County, NC, I discovered my passion for leading and ensuring that victims of crime receive well-coordinated, high-quality care. Many years later, when the Marine Corps was looking for a program manager for their sexual assault prevention and response program, I felt like I had the experience and expertise to do a positive difference. Additionally, as a military spouse and a member of our large DoD family, I understood how industry best practices could be applied to care for Marines and civilian employees.
What challenges have you encountered during your career?
Understanding the nuances of Marine Corps and Navy culture took time. Having never served in uniform, I cannot easily identify, for example, with the experience of being a recruit at training camp or serving as a non-commissioned officer or enlisted superior. I did not serve in combat and I was not separated from my family for a deployment abroad. Having said that, I still design and implement programs for Marines and Sailors. It hasn't always been easy. As a new civilian employee, my learning curve was steep and I often felt that I did not belong to me and that I could not speak the "language" of a military person. As I grew as a leader, I worked hard to understand Marine Corps and Navy communities and learned to communicate in a way that reflected my curiosity and interest in the creating programs that resonated with service members.
Did you feel like you always had enough mentors and leaders to guide you? Why? Why not?
Yes. I have been incredibly fortunate to have wonderful mentors and leaders to guide me. I recommend contacting multiple professionals (military and civilian) for routine mentoring. I can think of many examples where I was able to receive encouragement during difficult times from one mentor and direct, honest feedback when I needed a different perspective on a difficult problem from another. As a very junior civilian employee in the Marine Corps, I remember being incredibly motivated by the senior leadership of the Corps who made positive, large-scale change. I wanted to emulate their leadership styles.
How do you work to be a mentor to your younger counterparts yourself?
I love helping young leaders grow professionally in order to reach the professional milestones they have set for themselves. I believe leaders need to invest in future leaders because talent management keeps us all ready and able to meet the changing needs within the Department of Defense. To this end, mentoring is a great way to share experiences, provide opportunities, and listen to the needs of aspiring professionals. I also believe in the encouragement of various professional opportunities. I was fortunate to have the opportunity to broaden my skills by serving under the Deputy Commander of Marine Corps Personnel. This experience was incredibly beneficial as I learned more about the Marine Corps and the larger Department of the Navy, returned to my main mission refreshed and invigorated, and had a new perspective on how to " address the prevention of destructive behavior.
What does it mean to be successful in your career field?
A mentor of mine once told me that becoming a leader is not about having "rights", but rather being able to "influence" people. I believe there is a lot of truth in this. To be successful in this area is to inspire teams. Success relies on investing in people, recognizing that we cannot do this job alone and that we are stronger together. Success is also about finding that essential work-life balance. In order to take care of others, we must first take care of ourselves and our loved ones. It took me many years to recognize that burnout is real and is preventable when healthy limits are put in place.
How has the culture of diversity changed in your career?
I was fortunate to see a focus on hiring a more diverse workforce during my time in DoD. While I was sometimes the only civilian woman at senior leadership meetings many years ago, that has changed over time. One of the highlights of my career was when I played a pivotal role in establishing the Office of Personnel Studies and Oversight for the Marine Corps. There, I was part of the Executive Talent Management Board, where the tough questions about existing inequalities in our promotion, hiring and retention practices were assessed. Currently working for the Department of the Navy, I continue to focus on diversity, equity and inclusion. I see a continued emphasis and importance placed on diversity, equity and inclusion. There is no doubt that we still have a long way to go, but I know the leaders care a lot about this issue.
What advice would you give to new entrants to the military / defense community?
My advice for new hires is twofold. First, employees can benefit from the many professional development opportunities available to government staff, including formal and informal training courses. Skill building is an essential element for all professionals and I think the Department of the Navy and the military sector in general offer a lot of interesting opportunities. If I had to hone the skills to hone as you progress in your career, I would recommend developing communication and leadership skills. Relationship skills are important for leaders today, and learning how to promote a positive and healthy climate through your communication and leadership style will be of great help to you.
Second, I would seek growth opportunities in your area of ​​expertise and find opportunities to expand and diversify your skills. Being able to think outside the box and offer different perspectives will help you problem solve effectively. DoD needs innovative thinking to solve tough problems, and the best way to accomplish this professional growth is to step out of your comfort zone. Look for a retail assignment, apply for jobs outside of your department, and / or volunteer for special projects if opportunities are available.
Who are the force multipliers in your community? Let us know at [email protected].