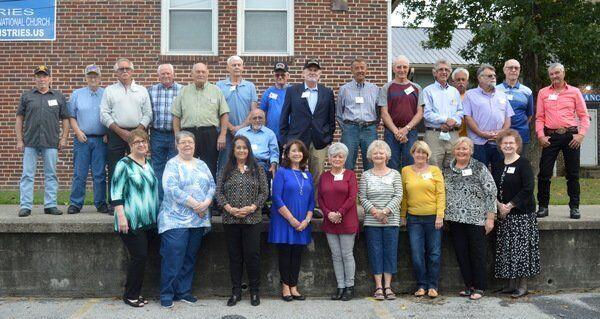 [ad_1]
LILY – The old rock gymnasium located at the Restoration Ministries was decked out in blue and gold decorations on Saturday night. Cutouts of the numbers "50" and "1970" dotted the walls of the gymnasium, a slide show illuminated old photos against each other. Soft music played over loudspeakers served as the backdrop for conversations centered on catching up and remembering as the old gymnasium hosted, as it did so many years ago, the class of 1970 from Lily High School.
"This is our 50 year class reunion and we wanted to bring together as many of our classmates as possible," said Bob Patterson, one of the 40 or so former Lily Bulldogs in attendance on Saturday night. "Just being able to come home to your school was great."
After Patterson and his classmates graduated, Lily High School and other local high schools were closed and merged into one school, Laurel County High School. Laurel County High would split again, this time into North and South Laurel High Schools, while the building that once housed Lily High School became the site of a local church called Restoration Ministries.
Patterson said it was wonderful that the old building continued to serve the community through church services. He said when planning the event on Facebook, church officials contacted the class to find out if the class would be interested in hosting their meeting at their old school. The catering ministries also took charge of the meal for the event. Patterson said the church did not charge the group for the use of its facilities, but a donation box was set up during the event as a way for attendees to offer their thanks for the generosity of the 'church.
Before the first balloon was inflated or the first centerpiece placed, Patterson said it was a challenge to just get his old classmates together. He said if it hadn't been for social media, he doesn't think the reunion would have even been possible.
"We still have about ten people that I couldn't reach," he said. "I don't really have a clue how to get them. It took us literally four years to get our hands on people in their 50s, "Patterson continued. "It's difficult, people are leaving the state, they are dying. We have people who are in old homes. We have people who are in the hospital. It's hard to get up with everyone.
Like most graduating classes, Lily's class of 1970 met in their 10 and 20-year reunions, Patterson said. For the past four years, Patterson says a small group (consisting of about 15 people) meets once a year to share a meal at a local steak house or restaurant.
He said he thought it was important for the group of former classmates to meet as often as they did, as they are now aging and many of the original group of around 80 graduates have passed away or lost contact with the group. On Saturday, those in attendance took the time to remember those deceased classmates. A table with framed photos of these students was also set up in the gymnasium during the event to honor them.
"Whenever we get together, most of the people we went to school with are not here with us anymore," commented James Scalf, who was seated next to his former classmate Lester Thompson.
"It's a great asset to get together like this," Scalf continued. "Like Lester here, I haven't seen him in years. Most of these people you don't see, but maybe once a year or less.
"I just love seeing the people I went to school with," Thompson added, as he and Scalf remembered playing basketball, baseball and football together at school.
Roy Hamblin, who was sitting with Sandra Williams, Donnie Cheek and other former classmates, laughed with the group as Hamblin recalled graduating from Lily High School and Bush High School. He says he moved after the first semester of his senior year and, as a result, graduated from both high schools. Asked about Saturday's event, Hamblin said he enjoys meeting old friends and seeing how they thrive throughout their lifetimes.
"I like seeing the people we went to school with. It makes me feel good, "noted Cheek, as Williams recalled the fashion of their high school years, recalling how female students wore skirts and dresses.
And while he remembers sporting events, proms, and other aspects of high school life, Patterson said when he looks back on his time at Lily High School, he remembers a former vice-principal. and the way his voice traveled.
"You must know him, but he was one of those guys who if he said, 'Hello' you can hear him all over the school, he was talking really loud," Patterson said. "I remember Mr Johnson telling people to slow down or blame them for doing something. He didn't need a microphone.
When asked what he remembers from high school, Scalf recalled a former teacher who helped shape his life.
"Mrs. Mable Ward, she was the one who made me want to read," he said. "I had a really bad understanding. She gave me a book, I took it with me. at home I kept it for about three weeks. I brought it back, put it on her desk and went to sit down. When I got up to leave, she said: 'Here, take this book and read – this time. ' And I did it, "he recalls, laughing." That's how it goes. "
[ad_2]