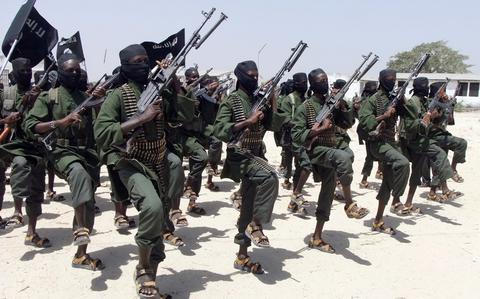 WASHINGTON — Four al-Shabab terrorists who recently attacked Somali forces were killed Wednesday after a series of U.S. airstrikes, U.S. Africa Command said Wednesday.
US forces, in coordination with the Somali government, launched three airstrikes against terrorists who attacked Somali troops on Tuesday near Beledweyne, Somalia, AFRICOM reported.
"Command's initial assessment is that the strikes killed four al-Shabab terrorists and no civilians were injured or killed," AFRICOM said. "U.S. forces are authorized to conduct strikes in defense of designated partner forces."
The announcement did not include further details of the al-Shabab attack.
Al-Shabab is the Somalia-based militant wing of the Somali Council of Islamic Courts that controlled the southernmost part of the country in 2006, according to the US Director of National Intelligence. Although the main group was defeated in 2007, al-Shabab continued its violent insurgency.
"The Somali federal government and US Africa Command are taking great steps to prevent civilian casualties," AFRICOM said. "These efforts contrast with the indiscriminate attacks that al-Shabab regularly carries out against the civilian population."
The airstrikes come about two months after US special operations troops returned to Somalia. Former President Donald Trump had decided to withdraw around 700 US military personnel from the country in the last days of his administration.
President Joe Biden reversed Trump's decision based on a request from Secretary of Defense Lloyd Austin out of "concern for the safety of our troops who have been at added risk by episodically deploying inland and outside Somalia," John Kirby, then Pentagon press secretary. said at the time.
Defense Force in Somalia in May 2021. US Africa Command conducted an airstrike on July 20, 2021 against al-Shabab militants who were attacking members of the Danab force."/>